Panchratna Hall, Station Road, Ichalkaranji, Maharashtra
Ichalkaranji, Maharashtra - The eagerly awaited 2nd edition of the Great India Textile Show (International) is set to dazzle textile enthusiasts from across the globe. Hosted at the prestigious Panchratna Hall on Station Road, Ichalkaranji, Maharashtra, this grand event is scheduled to take place from the 1st to the 4th of September, 2023.
With an impressive array of exhibitors and a diverse range of products, the Great India Textile Show (GITS) is set to amplify India's standing as a global leader in textile manufacturing and innovation. The event will feature exhibitors specializing in Textile Machineries such as Airjet Looms, Electronic Jacquard, Digital Printing, Compressors, Piping & Fittings, Testing Instruments & labs, Yarn Twisting & Winding Machines, Heat Transfer, Industrial Boilers, Yarn and Fiber, Accessories, Yarn, Fabrics and Spare Parts providing a comprehensive platform to showcase cutting-edge advancements and trends within the industry.
1. Exhibitor Profiles:
Textile Machinery

Yarn Fiber

Fabrics

Accessories, etc.
2. Visitor Profiles:

GITS, renowned as India's leading and most admired trade fair organizer, has an impressive track record of orchestrating successful exhibitions across various industries, including Textile, Food, Leather, Garment, and Solar. Attendees at the 2019 GITS Ichalkaranji event experienced exceptional networking opportunities and tangible benefits. Both exhibitors and visitors hailed the event's significance in connecting businesses and fostering growth in a promising market.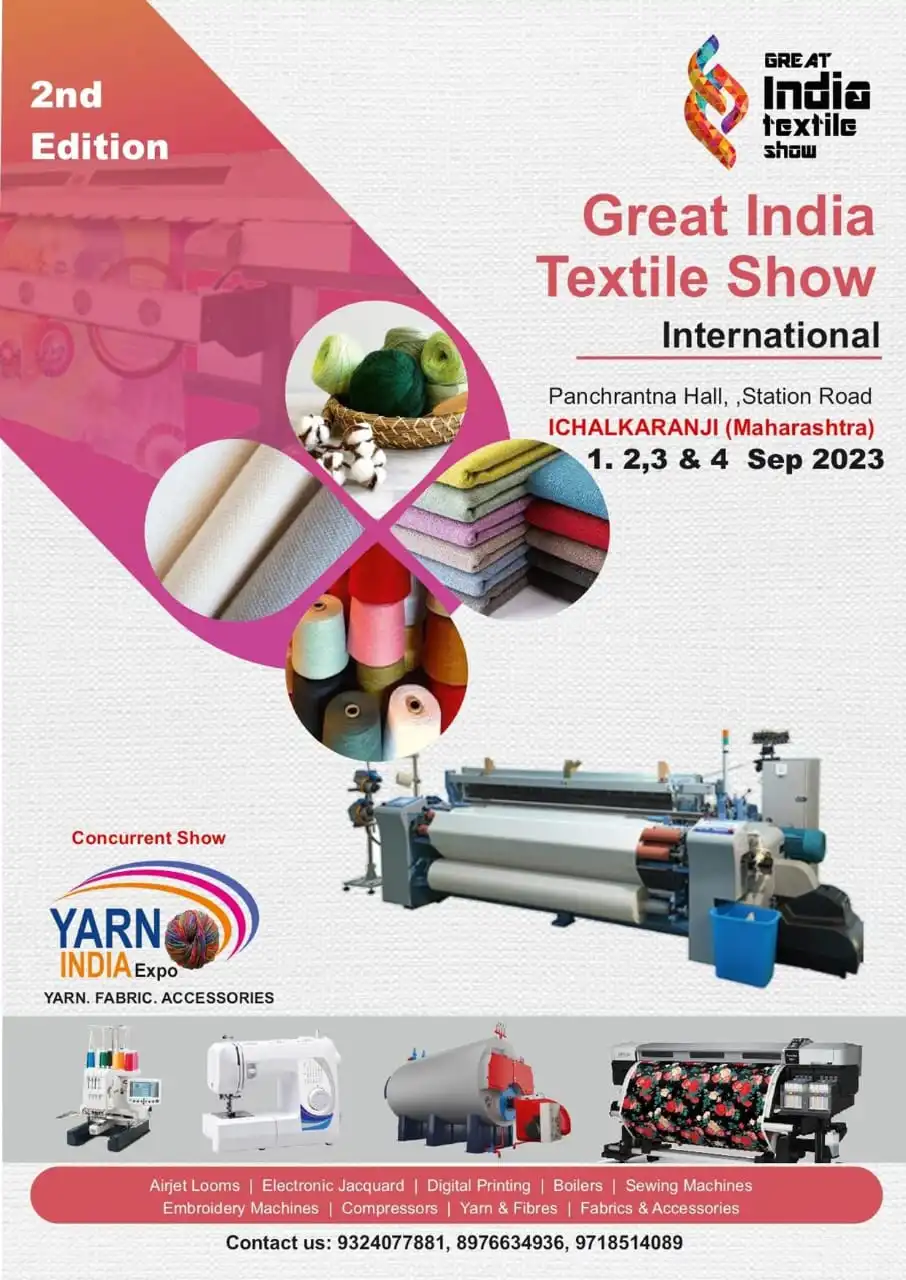 The event promises a captivating experience with highlights including:
➨ Industry Recognition: Notable personalities from Ichalkaranji's vibrant textile industry will be felicitated, acknowledging their outstanding contributions to the sector.
➨ Beneficial Schemes: For small India Manufacturers and Traders. Organiser has introduced fabulous discounts scheme for Small, Medium and Micro units of India to get more and more participants in the exhibition.
➨Theme Pavilions: Visitors can explore theme pavilions that showcase curated collections of textiles while accompanying catalogs provide deeper insights into each displayed product.
➨ Innovative Demonstrations: The event will host live demonstrations by both domestic and international machinery manufacturers, allowing attendees to witness groundbreaking innovations in action.
The 2nd Great India Textile Show (International) is set to be an event of paramount significance, bringing together textile enthusiasts, industry leaders, and innovators under one roof. The event promises not only to showcase the finest textiles but also to cultivate meaningful connections and knowledge exchange that will propel the industry forward.
For further information, registration, and participation inquiries, please contact to organizers
Mr. Rajesh Sinha: 9324077881
Manoj Arya: 9718514089
Kaveri Aswale: 8976634934
Join us at GITS '23 and discover the world of possibilities, innovations, and collaboration in the heart of India's textile industry.
Author: The Yarn Bazaar
Published By: The Yarn Bazaar